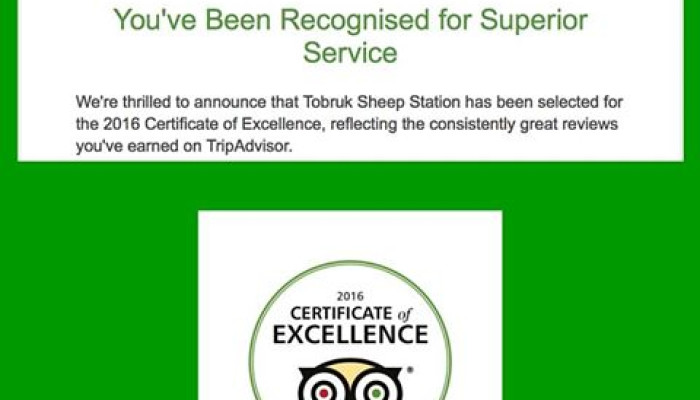 Tobruk Sydney Earns "Certificate of Excellence"
We are super excited and proud to announce that one of our local attractions "Tobruk Sydney" at Maroota has been awarded the '2016 Certificate in Excellence' from Tripadviser.
The TripAdvisor Certificate of Excellence is awarded to properties that consistently achieve OUTSTANDING traveller/visitor reviews on the world famous TRIPADVISER website
What a well earned achievement .. you are a top notch team and it shows with this award how professional and exciting your show is.. WELL DONE !!!!
Some TripAdviser Feedback for Tobruk !!!
'We have been trying to think of adjectives that describe why this experience was better than any other sheep station experience we've had – Outstanding = Fun – Interesting – Educational – Great tucker – Interactive – Staff that really make you feel it is their honour to be entertaining us, whether it be 2 or 200 they would not be fazed. Nick, totally charming and full of outback knowledge, (stockman el superbo!), is getting married on this lovely property he manages this weekend – we wish you every joy you deserve – you certainly deal out joy to hundreds of folk. Thank you all for a marvellous day.'  – Trip Adviser Review (April 2016)
'Wonderful day of fact, fun, interaction and entertainment. Rod the stockman is a true showman and I would highly recommend the experience to all ages. Thanks for a great day and memory, I will certainly return and bring friends and family.' – Trip Adviser Review (April 2016)
What is the Certificate of Excellence?
Founded in 2010, the Certificate of Excellence honours hospitality businesses that deliver consistently great service. This designation is given to establishments that have consistently achieved great traveller reviews on TripAdvisor over the past year. Establishments earning the Certificate of Excellence are located all over the world and have continually delivered superior customer experience.
Contact us, Wisemans ferry Facebook
Tobruk, Tobruk ,Tobruk