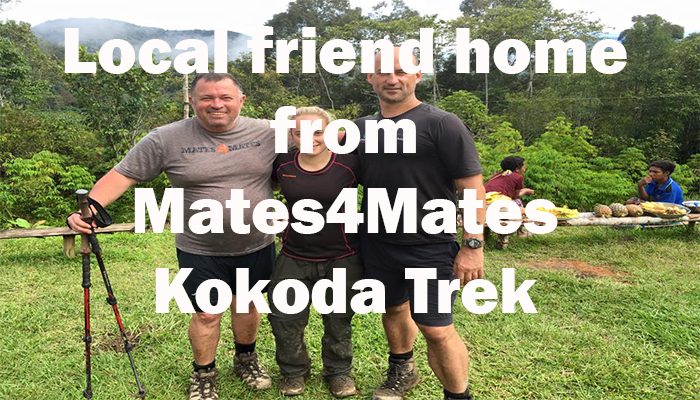 Local friend home from Mates4Mates Kokoda Trek
Mark Nowakowski is a friend and neighbour of mine, who is to his family a super dad and hubbie. 
He's not one to stand in the limelight, but I wanted you all to know about a most memorable and life changing adventure he has just returned from but before you hear about the end you need to hear where it starts …..
With what seemed like a very weighted down backpack on his back, I would see Mark walking, almost daily along the road not knowing at first that he was bound for The Great North Road. At first I just cheered him on, impressed he was so serious about getting fit and admired his determination and persistence.
Getting fit was an understatement, as Mark was about to set out on a challenge most of us would either only dream about or just leave for someone else's bucket list.
I finally asked him if there was something in particular that was driving him regarding his exercise. friend friend friend
He shared with me that he was partaking in a "Mates4Mates" Kokoda Trek in support of this organization, which I admitted I wasn't familiar with. I found out that "Mates4Mates" provides rehabilitation programs for current and ex-serving men and women of the Australian Defence Force.
Their Company overview sums it up: In recent times, it is estimated in excess of 65,000 young Australians have contributed to the protection, welfare and prosperity of our nation by entering conflicts or peacekeeping missions abroad.
Mates4Mates provides unshakeable support to these remarkable men and woman and their loved ones through vital mateship, welfare support and guidance to address the growing demand for sensitive and specialist treatment of injuries and illnesses sustained during their service.
THE KOKODA EXPERIENCE….
The Battle of Kokoda was a four-month struggle, which began with the Japanese landing in Papua in July 1942. This special trip supports our Mates whilst also paying tribute to the soldiers that fought to save our country in 1942. Mates4Mates allows you to experience Kokoda in a way few people ever will.
I read up on the trip on their webpage and realised I could only try to imagine how emotionally and physically challenging this experience would be.
Mark also has a special connection with Mates4Mates, being in the ADF (Navy) himself years ago and along with the rest of the team I began to get some understanding as to how incredible this journey would be for them all.
The Mates4Mates Kokoda Track Adventurers were all pretty stoked to not only have Glenn Azar leading
their trek but also accomplished adventurer & youngest Australian to summit Mt. Everest – Alyssa Azar as well
The amazing team of veterans from Mates4Mates are at Goldie River and ready for their final walk up to Owers Corner in the morning.
A great trip, a bit of rain and a few challenges with some old war wounds catching up with people. Those downhills sure challenge the knees.
But everyone is in great spirits and proud of themselves and what they've achieved.   Everyone back home was super proud too Mark !!!!!
To help our veterans please support mates4mates. www.mates4mates.org
Mateship shouldn't end when a tour finishes.  
Mates4Mates is – friendship… forged in the heat of battle, loyalty.. that lasts a lifetime and help.. that's forever at hand.