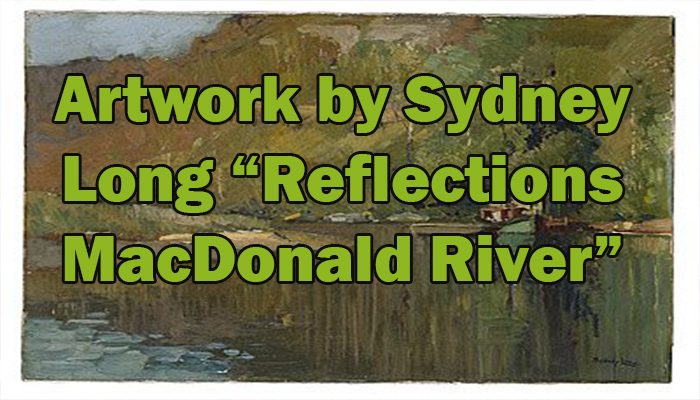 Artwork by Sydney Long "Reflections, MacDonald River" c1926
Sydney LONG
Australia 1871 – London 1955 artwork artwork
England, Europe 1910-21; Australia 1921- 22; England 1922-25; Australia 1925-52; England from 1952 artwork
Reflections, McDonald River c.1926 

oil on canvas
56.3 (h) x 76.7 (w) cm
signed 'SYDNEY LONG' lower right Artwork Gallery of New South Wales, Sydney, purchased 1931

 

'As soon as I come back to Australia, I feel that this is where I belong as a painter; because everything in the landscape is so paintable. Such harmonies, and such a fascinating range of tones', Long told A.G. Stephens in 1921 (AA, December 1921).

In Reflections, McDonald River 'the hillside sloping to the mirror of the water is set in deep tones, relieved by a bit of blue sky, which is reproduced in a patch on the left foreground of the river', wrote the reviewer in the Sydney Morning Herald (13 October 1926). When it was exhibited in Melbourne in 1931, Arthur Streeton commented: 'This study of an impressive hill, with its reflecting river, is full of Australian colour and general character' (Argus, 13 October 1931).

The McDonald is a tributary of the Hawkesbury River. It rises near the village of Putty and flows generally south-east to where it joins the Hawkesbury River near Wisemans Ferry.It is possible that Long stayed at the Queen Victoria Inn which backs onto the Macdonald River at a point where there are steep cliffs, such as those depicted in this image.

Reflections, McDonald River was first shown in Long's exhibition at the Australian Fine Arts Gallery in October 1926, and subsequently in 1931 at the 'Royal Art Society of NSW exhibition', Sydney (23), and at the Sedon Galleries, Melbourne, 13–24 October (10, as 'Landscape, McDonald River, NSW').

The painting was previously dated 1931, on account of the date of purchase, but has been re-dated on the basis of the exhibition review of 1926, indicating that it was first shown in that year.