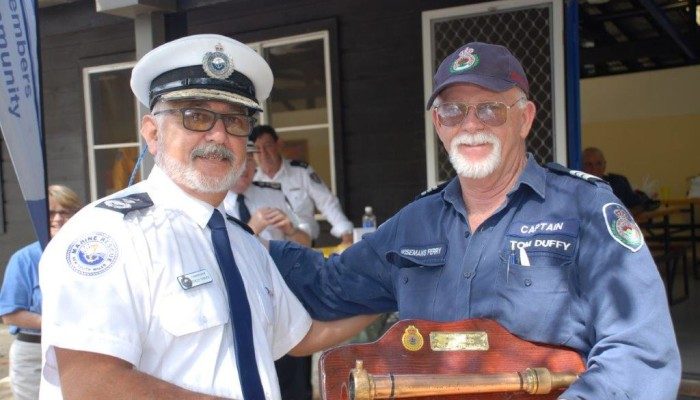 FAREWELL CAPTAIN TOM DUFFY – WF RFS
I asked RFS member and local lass Sophie Wills to send me some details through regarding the farewell of former Wisemans Ferry RFS Captain "Tom Duffy"…
what I received was a fantastic story and obvious thank you to Tom for all his efforts with the RFS and the Community.  Well Done Sophie… great piece of writing and I'm sure your friend Tom will be very taken and a tad emotional.
Tom Duffy – Wiseman's Ferry Rural Fire Service       By Sophie Wills
Wiseman's Ferry Rural Fire Service is celebrating the contribution of former Captain Tom Duffy as he stepped down from the position as captain on Monday 4th April, 2016 after two separate stints as captain for more than 14 years. Since 1998, Tom has been either Captain or Senior Deputy Captain of Wiseman's Ferry Brigade, a much loved leader. As Tom stepped down he was also voted to become a Life Member of the brigade, a much deserved honour.
Tom and his family moved from Glenorie to Wiseman's Ferry in October 1988, previously not having anything to do with the Bush Fire Brigade, as he was President and Treasurer of the local preschool, as it converted the old school residence into the 'new' preschool.
The relentless Dennis Hogan finally got Tom involved in 1989 saying that he would come and help save Tom's house in a bushfire, so Tom agreed that he should also come and save his. Tom having already had a truck license and experience as an accountant was quickly recruited as treasurer and immediately became a useful member of the brigade.
Tom recalls the monthly radio check for both Hornsby and Baulkham Hills Fire Control – the Hornsby check easily made from the station but Tom would drive the truck to Hawkins lookout to be able to make the Baulkham Hills check. After a couple of month, John Hojel (Hills District) would respond with a "thanks Tom", making Tom feel like a very welcome part of the team.
Tom's first call out was to the Ski Garden to assist with the 1989-90 floods, with his brand new yellow overalls and army boots. Tom drove the acco which was a WWII army truck, proudly stepping out shin deep in mud. farewell farewell
The crew spent a few days there as well as at the caravan park opposite the bowling club hosing out vans and trying to help the oldies find their prized possessions in the mud. The acco also came in use to rescue Tom's son Ross, who became stranded at his grandparent's house when the floods closed river road.
Tom has experienced and assisted with many bush fires and motor vehicle accidents over the years with a few caravan and house fires. farewell
The 1994 fires being a highlighted as Tom remembers "the fires just seemed to go on forever, we were all exhausted with bleeding feet and painful chafing from the overalls in parts of the body I can't mention".. "There are always some funny times and I remember laughing at Gary Mellows ashen face when he had been promoted to sector leader only to take a gasp when his first act was to promote me to crew leader.
Dennis Hogan had a long list of jokes that came out as we fought many fires together. One of the fires coming toward Wiseman's along Singleton road was particularly persistent, we ran hoses up the hill to put the edge out then had to patrol a very steep section all day to stop the fire blowing over the burnt line.
Dennis and I went up the hill to relieve the crew for a meal break, when we got back there was no food left. The retreat has just been built and the manager insisted we have a free meal there, he even apologised that he had to cover the new chairs to protect them from our blackened overalls."
In Tom's words "Our brigade has always made itself available to help" as he remembers many long nights out the back of Glenorie and Kenthurst. "We went through a time when it seemed like every Christmas Day was spent fighting a fire, there was several times when the family went on holidays and I stayed at home because the threat of fire was too great and was rarely proven wrong".
In the 2002 Forest Glen – Glenorie fires Tom and his crew were very pleased to stop being on standby and actually go and help at Maroota, "when we got there it seemed like all the western side was on fire or under threat, our brigade defended the properties along old northern road, one of which was the school my daughter Jasmine was a student of.
She was delighted that her Dad and his crew had stopped her school from burning down, and so were we"
In 2009 Tom was compelled to help in the Victorian fires and did 2 seven day stints in the Reefton area. "I was greatly surprised at the different firefighting methods used by the CFA and by how old their vehicles and equipment was"
In the 2013 Blue Mountains fires Tom led a couple of strike teams in the Putty road end of the fire, where he travelled out to the fire in the unimog army trucks and used a light tanker to burn back from a fire trail which was a very difficult experience".
More recently Tom has a seen a long project come to fruition with the RFS building the Wiseman's Ferry crew a new fireboat in 2013.
"The brigade had previously been using a boat owned by Bill Jacobs that was converted to a fireboat." Soon after completion the fire boat proved itself as the Wiseman's ferry crew have helped both Hawkesbury and Gosford RFS neighbours with a fire at Gunderman.
The crew has competed at the fireboat exercises every single year since getting the new boat, and gain second place in the last 2 years with Tom as a very happy helmsman. "We all were very pleased to bring home the trophy for our brigade but also as a recognition of the support and encouragement provided by John and the team at Fire Control in Kenthurst".
Tom has touched many of our members making a personal contribution to individual's lives, particularly those who need particular assistance.
Tom received the National Medal about 5 years ago, which is a medal awarded by the Australian Government for 15 years of active service and very proudly wears that with the 25 year service award presented to Tom by the RFS.
Tom said "The Bushfire Brigade has always been a family with many years of support and tolerance of me just not being around because I was at fires, meetings, trainings, HRs, maintenance and more.
Most of my family have been members with both my sons and daughter Jasmine pulling on the yellows and my wife Lyndel covering the secretary, treasurer, vice president and community engagement roles at different times.
I have been an active and proud member of our brigade for over 25 years, it's not easy to stand down as Captain after having done the job for so many years but I can do that in the knowledge that Stan and all the members will ensure the brigade continues to improve and build on the foundations that have been laid by myself and those before.
This all sounds like I'm leaving the brigade but I'm not, I plan to remain an active member for many years to come." farewell farewell
FROM ALL OF US – THANK YOU TOM!
اfarewell farewell farewell farewell farewell